Natgen goes interstate for Inverell site
Brisbane-based property fund manager Natgen has expanded interstate, acquiring Central Plaza Inverell in Inverell, New South Wales for $11.3 million for its latest unlisted property trust fund, Natgen Investment Trust IR22.
The property was brought from a group of local investors. Natgen's fourth property trust is its first outside Queensland, closing fully subscribed after attracting strong demand from property investors.
It offers investors an attractive targeted distribution of 8.5 per cent per annum over a five to six year term. At 101-121 Byron St, Central Plaza Inverell comprised a Supa IGA supermarket and 15 supporting tenancies, including retail, commercial, food, medical and educational services. The total tenancy area is 5365 square metres, with a weighted average lease expiry of 2.9 years.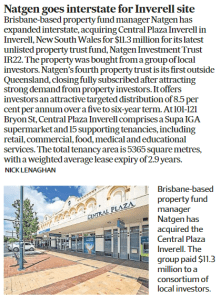 As seen in The Australian Financial Review