Natgen settles $4.5M land acquisition at Molendinar
The land is set to become a self-storage facility.
SEQ accounts for over a third of the nation's upcoming self-storage stock.
Demand remains elevated, driven by lifestyle changes and challenging rental conditions
Brisbane-based property fund manager, Natgen, has settled a $4.5 million land acquisition that is set to become a high-specification, state-of-the-art self-storage building.
Based in the expanding central Gold Coast area, Natgen Development Trust ML23 comprises the future self-storage building and surrounding facilities at 2 Industrial Avenue, Molendinar. It is also situated adjacent to a major arterial road – the Southport – Nerang Road.
The facility will feature over 5,250 square metres of self-storage units, incorporating an office/retail space, parking, security and landscaping.
Natgen Development Trust ML23 will construct and operate the self-storage facility for a five to seven-year period following completion, with a total assessed completed value of $22.9 million and investors contributing $8 million.
The acquisition follows the success of Natgen's previous investment in Gold Coast self-storage at Upper Coomera, with last year's $10 million Natgen Development Trust UC22 closing fully subscribed.
Demand for self-storage high
The self-storage sector has seen a growing level of interest, with the past twelve months seeing $132 million in sales for the sector, according to data from Ray White Commercial.
One of the drivers for demand includes the housing crisis, with experts noting the challenges of securing a rental have fueled the need for prolonged storage.
The South-East Queensland (SEQ) self-storage construction pipeline is also the strongest in the country, with Ray White finding the region accounts for 36% of the nation's upcoming stock.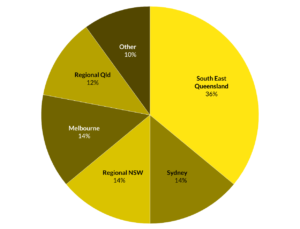 Natgen Managing Director & Responsible Manager, Steven Goakes said the SEQ self-storage market offered an attractive opportunity for investors.
"Self-storage is a growth industry in Australia due to the rise of e-commerce, shrinking living spaces and sustained population growth, particularly in South-East Queensland," Goakes said.
"The Molendinar facility's central Gold Coast location and the strong demand factors have given us confidence in the facility's long-term performance and our ability to maximise returns for our investors, with this type of asset also acting as a hedge against inflation."
The Gold Coast is expected to hit one million residents by 2041, with other drivers of local sector strength including the upcoming 2032 Olympics.
According to the Urbis Self-Storage Index, self-storage occupancy rates have risen to 94.4% in outer Brisbane as of December 2021.
Revenues for the self-storage sector have surged to $1.5 billion, with annual growth of 4.4% from 2022 to 2027; the lack of feasible substitutes further supports the industry's performance, according to IBISWorld. This has led to strong market valuations and capitalisation rates for high quality self-storage facilities, with the industry attracting increasing investor interest.
"Natgen has a strong focus on well considered, risk-managed investments that offer regular monthly income, an inflation hedge, low volatility and growth potential," Goakes added.
"This latest acquisition provides further diversification for our investors and we look forward to completing this exciting development."